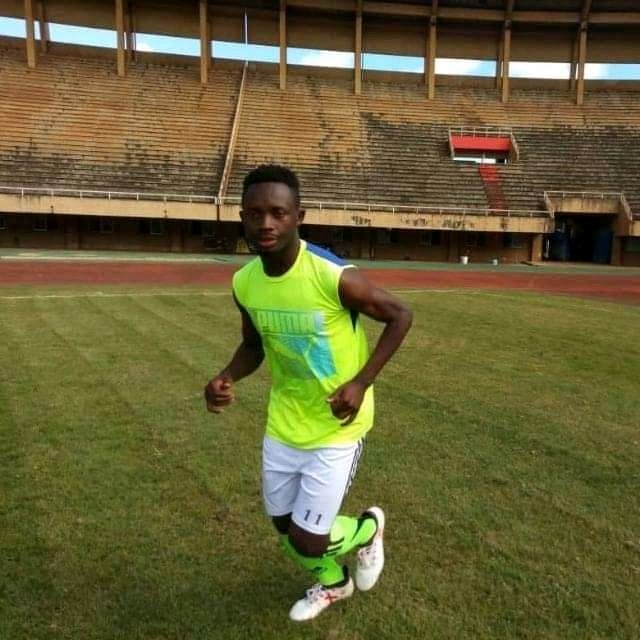 Musoki Beckham is Keeping His Uganda Premier League Dream Alive Despite Pandemic
By Akugizibwe Isaac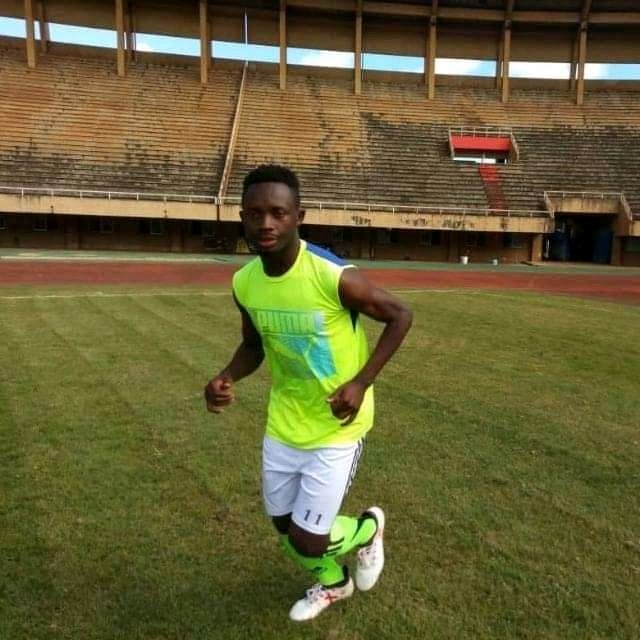 Musoki Beckham, is set to inspire Kitara FC to the Uganda Premier League promotion. Beckham is utilising the COVID-19 pandemic lockdown to regain his fitness as he looks forward to a strong return from an arm injury that has kept him out of action for six months.

The 24-year-old striker's return will be a big boost for the second-placed Kitara FC, which had gathered 36 points, and two points below table leaders before going into the lockdown by mid-March.
"I am happy that the injury has seriously healed," Beckham said. "I really thank the management of Kitara FC for treating me and I also want to assure my fans that I am now ready to lead my team into the Uganda Premier League."
Beckham joined Kitara FC in 2019 after completing a Diploma in Public Administration at the KIU, Main Campus. He signed a three-year contract and scored only six goals for Bunyoro-based Kitara FC before suffering a devastating fracture on his right arm in September 2019.
Before joining Kitara FC, Beckham had played for Bumate FC, New Villa, and Nyamityobora from where he joined Kitara FC inspired by a breathtaking hat trick against Kira FC; his first ever in a big league.
About Beckham
Musoki Beckham was born on 12th December 1996 in Bundibugyo district in Western Uganda. He didn't start as Beckham; instead, he started as Musoki Ramathan.
While playing at school, the Young Musoki Ramathan would kick bottles, making them to curve like the English legend David Beckham's free-kicks. His senior colleagues then nicknamed him Beckham. When his father learnt of the new name his son had earned, he changed Musoki Ramathan's birth certificate name to "Musoki Beckham." His father is an all-time Manchester United fan.
The 24-year-old centre-forward started playing active soccer as early as primary two when he featured for Kansanga Primary School in the U-14 school tournament. It is at this stage that his soccer abilities became evident, to the extent that he attracted the attention of many schools both in Kampala and Bundibugyo.
In 2008, while in P.5 at Kansanga Primary School, Bundibugyo 's Super Primary School offered him a scholarship to study for free, a chance he could not deny. He led the school to many soccer championships in the district and in Rwenzori region before completing his primary school education.
He then joined Christ School Bundibugyo for his secondary education at the expense of renown sporting schools like St Leo's College Kyegobe in Fortportal which could not afford to pay his fees. Beckham spent six historic years at Christ Schoo, making it one of the best soccer powerhouses in Western Uganda.
Christ School Bundibugyo won four post-primary Coca-Cola trophies at the district level and two at the regional level when Beckham was a student there. His prolific finishing skills aided by his agility and his stamina saw him win the district and regional post-primary top scorers accolade four times in a row from 2012 to 2015. He scored a total of 113 goals for Christ School, making him the school's all-time best player and goal scorer.
Beckham joined KIU in 2016 to pursue a Certificate in Mass Communication. A year later, he advanced to a Diploma in Public Administration. He couldn't play for the university soccer team at that time because the squad to feature in the University Football League had already been submitted.
He was recruited to play for the beach soccer side with whom he won a first runnersup medal in 2019, despite scoring only one goal against Ndejje University in a 1-0 victory.
The stout centre forward missed another, and perhaps the last chance, to feature for KIU in UFL in 2017 due to the fact that he was already playing in Big League which is against the rules of the University Football League that doesn't allow players above regional leagues. This meant he would only play friendly matches.
Much as his dream to play in UFL was shuttered, 2017 remains one of the best years for Beckham. He led all scorers to Bumate FC from regional league to Uganda's second tier, Big League. He was also voted most valuable player in the Rwenzori Regional League.
He also led Nyamityobora from Big League to the Uganda Premier League a year later before leaving them late 2018 to sign for Kitara FC early 2019.
Inspired by the happiness of scoring goals and the desire to be the best always, Beckham is working harder every day as he looks forward to seeing his team compete in the Uganda Premier League next season.